SMG Sportingly Spoilsport
by Kishin R. Wadhwaney.
Siddharth Publications.
Pages 232. Rs 500.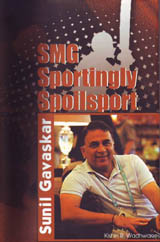 I
NDiA

is starved of sporting icons. Very few disciplines have thrown up sportspersons of international calibre and, fewer still, world-beaters. Although tennis, badminton, boxing and wrestling have contributed a bit towards this end, cricket remains way ahead of the rest. This is the only game that has consistently produced champion players like Sachin Tendulkar, Kapil Dev, Rahul Dravid, Virender Sehwag, Anil Kumble etc. However, Sunil Manohar Gavaskar is considered Indian cricket's first superstar. During the 1971 tour of the West Indies, his performance drew comparisons with Don Bradman. This, when he had missed the tour's first Test owing to a surgery and was short of practice!
Wadhwaney refuses to deify Gavaskar and treats him as an ordinary mortal, portraying, along with his achievements and positive personality traits, the darker shades, or the warts and moles. Whether it is the controversy involving Bishen Singh Bedi's axing in 1981, the treatment meted out to Dilip Doshi or the Gavaskar-Lillie run-in at Melbourne, the author does not mince words. There are other issues, too, wherein the cricketing legend's penchant for intrigue and pretence has been underscored.
This is a book that would interest all those who are enamoured of all things cricket – both on and off the field. After all, what could be more absorbing than an incisive writing, garnished with anecdotes, on a cricketing legend like Gavaskar.
Knowing Dil Das
by Joseph S. Alter.
Penguin.
Pages xvii+193. Rs 299.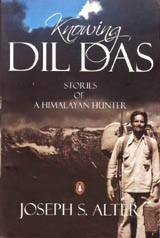 Alter is a son of a missionary and teaches anthropology in America. During his childhood days in India, he had become friends with a 'low-caste' doodhwala named Dil Das. Over a period of time, Alter became interested in the fascinating tales that Das used to narrate. Mostly autobiographical in nature – typically dwelling upon shikar-related adventures; these tales were a mix of fact and (perhaps) fantasy. Das talked of having gone on hunting expeditions with kings, politicians and other upper-class huntsmen. Nevertheless, the author discerned in these narratives glimpses of history that you would not find in any standard textbook or even other published records.
But there are other tales, too; of the pleasant, and not so pleasant, interactions with people belonging to upper castes, which show Das observing all the then extant rules of Hindu hierarchy. These give us an idea of how the village society used to function in the Himalayan foothills and, most probably, still does. For example, when a Brahmin friend invited Das to have tea with him, Das accepted the offer but on a neutral ground – where it was not a taboo for a Brahmin or a 'low-caste' person to enter.
Alter has skillfully coalesced history, anthropology, biography and sociology to come up with a book that should be of great interest to common readers as well as research-scholars.
You are not Alone
by Arun Mirchandani.
Frog Books.
Pages 150. Rs 195.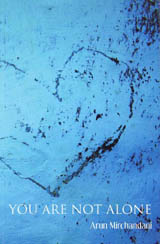 This novel, written in first person, recounts the tale of Sanjay Sanghavi, a seventy five year old gay person. It starts with his childhood in Singapore where, as a four year old, the 'tendency' begins to manifest itself. The child shows interest in Barbie dolls and feminine dresses and feels uncomfortable with masculine behavior.
Soon, his father is transferred to Mumbai where Sanjay does most of his schooling in an up-market school. As he grows up, Sanjay turns obese, and becomes infatuated with a well-built classmate. But, things turn raw when he is bullied and sexually molested by some of the boys in his school.
Mirchandani has written a sensitive and absorbing account of a homosexual. Section 377 or not, it is well known that our society has still to accept gays as its own.